Salon
, a few new features were introduced. These innovations included the
Librairie EUropa
(featuring books, authors and illustrators from further afield in the European Union... Eastern Europe's contributions were especially wonderful!) and the
AniMix
.
The
AniMix
was a film festival within the Salon — a first in its 26-year history! Around 35 films were screened: all animated, there were shorts, pilots and feature-length previews. They all had in common some connection to children's books — either adaptations based on an existing children's book, or originals created by the illustrators themselves. These included:
Kitty Crowther
("Le Banc")
,
Anne Herbauts
("Jean perdu dans ses pensées")
,
Albertine
("La génie de la boîte de raviolis")
,
Samuel Ribeyron
("Beau Voyage")
,
Eva Offredo
("O'Moro")
,
Jean-François Martin
("L'Inventeur")

and
Michèle Lemieux
("Nuit d'Orage")
.
For me, a few of the memorable and enjoyable films were these:
"O'Moro", by Eva Offredo and Christophe Calissoni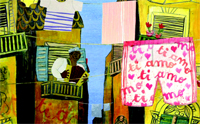 "Beau Voyage", by Samuel Ribeyron
"La Génie de la boîte de raviolis", by Albertine.
"Nuit d'Orage"
(also known as
Stormy Night
), by Michèle Lemieux. Superlative!
For the full list of films screened at the Salon, see
here
.
To view some of the films mentioned, here are links to video clips:
Enjoy!